Extend Your Living Space with the Latest Outdoor Entertainment Systems
Gather with Friends and Family for a Movie Night Under the Stars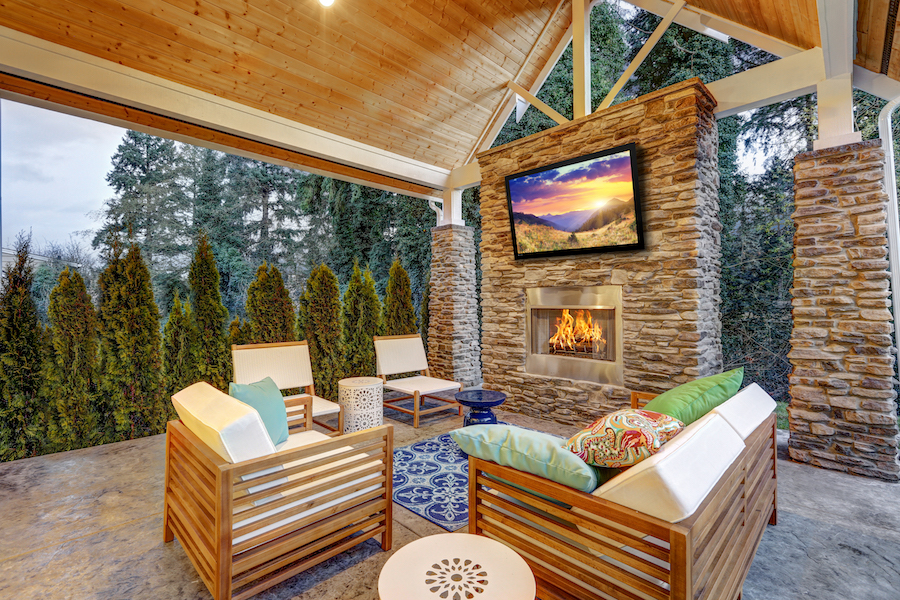 The season is quickly approaching when we put away our umbrellas and get ready for the long days of summer. Are you ready to make this your best outdoor season yet? If so, spring's arrival just announced that now is the time to prepare.
How do you envision your outdoor space? Is it everything you want it to be? One of the latest innovations our clients genuinely enjoy is the audio and video that transforms their backyards into outdoor entertainment meccas. In fact, they tell us they often spend more time outdoors than inside their homes once we've created the oasis of their dreams in Lexington, KY.
Let's explore the components of the latest outdoor entertainment systems.
SEE ALSO: How to Choose the Right Lighting Control System for Your Home
The Immersive Sound Field
Today's technology has made it possible to create outdoor entertainment areas as spectacular as our indoor ones. High-fidelity landscape satellite speakers can be installed throughout an outdoor space, whether a large estate or a quaint backyard, and deliver high-performance sound throughout the whole area.
Ultra-wide dispersion drivers deliver an even sound coverage, and strategically placed speakers and in-ground subwoofers offer a sound that engulfs the listener. These speakers blend in seamlessly with your landscape. When integrated with your whole-home audio system, you can control every audio source with one tap on a touchscreen or tablet and choose which room or area of the yard you'd like to hear it.
We can even install in-pool speakers, so the music doesn't stop whether you're swimming laps or floating under the sun.
The Images that Captivate
Today's outdoor TVs, such as Sunbrite and Seura, offer incredible images in full sun. They accomplish this by creating images up to six times brighter than those produced on indoor TVs and utilizing anti-glare coatings. As a result, these displays can provide a sharper picture than the same 4K high-definition TVs you find indoors.
When paired with your high-performance audio system, you and your friends and family can enjoy movie nights under the stars and game-days in the great outdoors, experiencing the sound that surrounds you and the images that draw you into the scene.
The Whole Home Integrated
When combined with your home automation system, one touch can control all your home's systems, from your lighting and climate to your entertainment and security. For example, if you regularly entertain or have dinner in your outdoor kitchen or dining area, we can program scenes that adjust multiple systems at one time.
For example, tap on your Outdoor Dining scene, and your lighting adjusts to the perfect hue, the outdoor firepit ignites, the spa warms, and soft jazz filters through the home and out into the yard.
When you want to enjoy the solitude an outdoor entertainment area provides, you can even tap a button and catch up on your favorite series that you were watching in the media room earlier that day. When you combine home automation and distributed audio-video, the possibilities are nearly endless.
At Rely Technology, we take pride in the many long-term relationships we've developed with our clients, becoming their trusted partners and expanding and adapting their home's technology as their family's needs change. To learn more about the latest outdoor entertainment systems or to schedule a complimentary consultation, contact Rely Technology today.