Do You Have Everything You Need for Outdoor Entertainment?
With winter on its way out, make sure you're ready to take advantage of warm and sunshiny spring days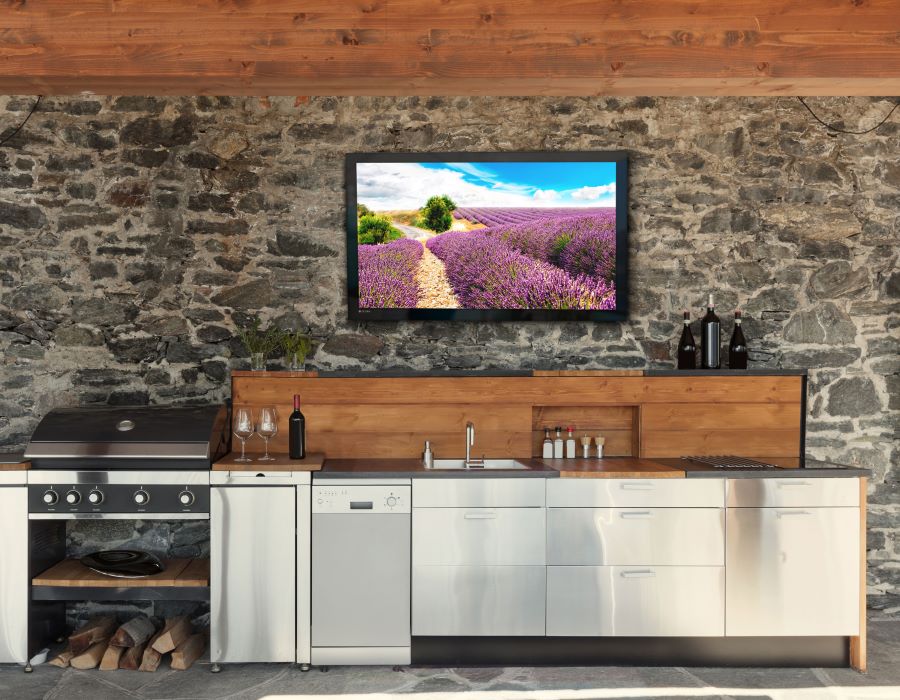 Spring is just around the corner in Lexington, KY, and summer is nipping at its heels. After a long, cold winter, most of us are ready to escape the confines of home and take advantage of the sunshine, warmth, and fresh air outside.
With an outdoor entertainment setup, you can enjoy long days by the pool and barbeques with friends without straying further than your backyard or patio. Unlike public outdoor venues, you have complete control over the entertainment choices and ambience in your private outdoor spaces. Keep reading to make sure you have everything you need to have fun outside this spring!
SEE ALSO: Bring Beauty and Benefits to Your Home With Hunter Douglas Shades
A Bright Outdoor TV
Watch movies, TV, and sports outside with a TV on the patio or pool deck. We don't recommend buying an indoor TV and placing it outside — standard indoor televisions aren't bright enough to display clear picture quality outdoors, and they're not built to withstand the elements.
Instead, look for an outdoor TV from industry-leading brands like Séura or SunBrite. Durable, weatherproof Séura and SunBrite TVs are several times brighter than indoor displays and designed to live outdoors year-round. Both brands offer models for optimal viewing in the shade or full sunlight, meaning a screen beside the pool is entirely within the realm of possibility. And since both brands have offerings with the latest display technologies like 4K resolution and HDR processing, your shows and films will look just as good outdoors as they do inside.
A Sleek Sound System
Like with TVs, we don't recommend buying indoor speakers and installing them outside. Outdoor speakers require more powerful drivers to cut through large, open spaces and environmental sounds (traffic, insects, wildlife) and deliver a crisp, clear sound experience. Many leading outdoor speaker brands offer in-ground subwoofers for deep, robust bass that give your backyard music a concert-like feel.

Your speaker system can extend as far as you desire — landscape speakers designed to blend seamlessly into your foliage distribute clear, even sound throughout your entire outdoor space. Outfit your patio with in-wall, in-ceiling or surface-mount speakers to listen to music while you grill or swim and enhance the audio from an outdoor TV.

There's no better time than right now to call Rely Technology and discuss an outdoor entertainment solution for your Lexington, KY, space. Call us at 859-402-1413 or fill out an online contact form to get started. We look forward to hearing from you!

No video selected.