5 of the Best Tips for Using a Control4 Smart Home System
Experience Simplicity in the Day-to-Day Management of Your House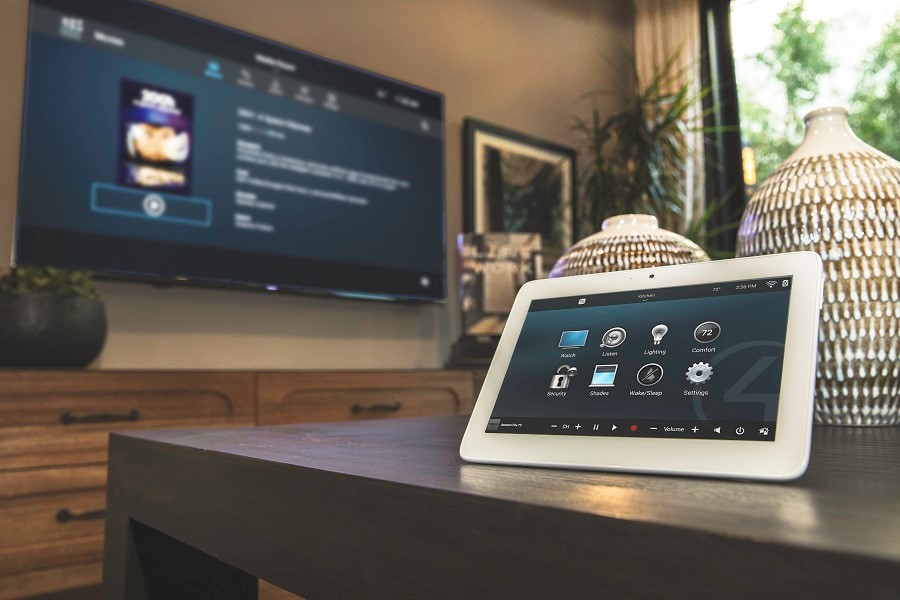 At Rely Technology, we take pride in our motto of "Experience Simplicity."
For more than a decade, our team has proudly worked with homeowners throughout the state of Kentucky to simplify and add convenience to their lifestyles through smart home technology.
We are able to accomplish this because of our strategic partnership with Control4, one of the leading brands in integrated home control systems.
In this blog, we explore some of the best tips for using a Control4 smart home system at your Lexington-area house.
Just keep reading below for more information.
SEE ALSO: View Our Photo Gallery of Kentucky Smart Home Projects
1) Use a Control Device Most Convenient for You.
One of the fundamental tenets of a Control4 system is that it merges the controls for all of your home's technology systems – including shades, lights, security components, thermostats, entertainment devices and more – into a single, universal setup.
You can then access this universal control interface through a variety of methods, such as a remote, an in-wall touchscreen panel or keypad, a tabletop tablet or even your smartphone or computer.
At its most basic, a Control4 system eliminates the hassle of using several remotes to manage your entertainment systems and revolutionizes the way you control your home's lights, shades and security systems.
You aren't confined to an on/off switch or a dangling cord. You don't have to remember to arm the security system on the way out. You can do so directly from your smartphone, without having to get up from your seat.
While you're at home, though, a Control4 system allows you to manage your technologies in a fashion most convenient to your lifestyle.
Regardless of whether you want to use your remote or smartphone to control your TV or your lights, you can access your entire Control4 system from any connected universal interface within your house.
2) Create One-Touch Lighting Scenes that Elevate Your Lifestyle.
One of our favorite features of a Control4 smart home system is that you can create customized lighting scenes for a single room or multiple rooms, accessible through just the tap of a button.
Directly from the Control4 application on your smartphone or tablet, you can create a lighting scene for any occasion – whether it's a lighting pathway leading you to the kitchen from your garage or front door after a trip to the grocery store or one that turns off every light in your house as you get ready to sleep.
The fact is, you can easily create a lighting scene for any common occurrence throughout your house. When you're ready to activate it, all you need to do is press a button on your Control4 user interface.
Best of all, these lighting scenes you create can be incredibly detailed – featuring only specific lights within individual rooms of your house and even customized brightness levels.
And creating a scene is easy. Just check out this tutorial video below.
3) Keep an Eye on Your Home While You're Away.
When you leave your house for an extended vacation or even for a day trip, we know it can be anxiety-inducing. After all, how do you know your home will remain secure while you're out of town?
Here's how a Control4 system can help keep you in the loop while you're away from home.
Firstly, you can view everything from live home security camera footage to whether doors and windows are locked to alarm status and more, directly from the Control4 application on your smartphone.
If you notice any abnormalities, such as an unlocked door or a disarmed security system, you can remotely secure your home, even if you're thousands of miles away.
But your Control4 system also can send you automated push notifications alerting you to any suspicious activity – including the detection of hazardous gases or water leaks.
Our team at Rely Technology knows the importance of keeping your home safe. A Control4 solution prioritizes your family's safety, even while you're away.
4) Customize Your Multi-Room Audio System.
Perhaps you're a music enthusiast and you have speakers strategically placed throughout your home.
If you connect the controls for those speakers to your Control4 setup, you can genuinely customize the way you manage your multi-room audio system.
With a Control4 system, our team can help you create designated listening zones for your multi-room setup. What do we mean by that?
For example, while audio from the Kentucky football game plays in your media room and throughout your indoors this fall, your kids' favorite Spotify playlist can play outside while they hang out by the pool.
The following video explores some of the audio grouping features within the Control4 user interface.
5) Have a Question About Your System? Don't Hesitate to Reach Out.
As we mentioned above, our team at Rely Technology truly takes pride in our motto of "Experience Simplicity."

When we install a Control4 smart home system at your Lexington-area house, we don't just hand the keys over and force you to learn the technology on your own.

We take a personalized approach to every project, taking the time to guide you through the technology so you know how to manage every aspect of your Control4 system.

Control4 is meant to simplify day-to-day tasks at your house. It's our job to make sure you experience the full benefits of your home's system.

And we don't expect you to know everything about your system right away. If you ever have any questions about your system, don't hesitate to reach out to us. We're always here to help.

Interested in learning more about the possibilities of a Control4 smart home system at your house in the Lexington area? Have a favorite feature of a Control4 system that we didn't mention?

Reach out to our team at Rely Technology today by calling us at (859) 402-1413 or by chatting live with us below. We look forward to hearing from you!

No video selected.